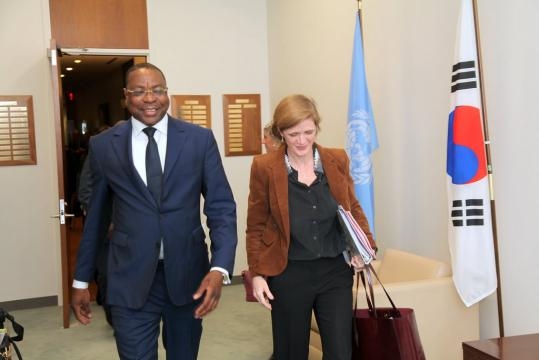 Senegal on Monday signed a defense agreement with the United States where Foreign Minister Ndiaye revealed the Gambia's request to meet.
Gambian and Senegalese authorities will meet in Dakar in the coming days to find a lasting solution to the border crisis which has been ongoing for the past three months,Senegal Foreign Minister Mankeur Ndiaye said on Monday. The Government of The Gambia officially wrote a letter to Senegalese authorities asking for another chance to discuss the languishing border issue. No specific date has been agreed upon by the parties to meet.
"We will study the proposed date that The Gambia has just submitted. Most certainly, we will meet here in Dakar, may be next week," said Mr. Ndiaye during the signing ceremony of a defense accord between Senegal and the United States.
The detour around The Gambia
The frontier was shut following a
boycott by Senegalese drivers
after the levy they have to pay to cross into The Gambia was increased 100 times -- from CFA 4,000 per truck to CFA 400,000 (£500; $700) in a unilateral move taken by
Gambia's President Yahya Jammeh
. The truck drivers refused to pay the high fee unilaterally imposed on trucks heading to Southern region crossing into The Gambia, forcing them to take a 10-hour detour around The Gambia, which separates the north and the south of the French speaking West African nation. President Jammeh has since
rescinded the decision
.
By far the shortest route between the southern Senegalese region of Cassamance and the capital, Dakar goes through The Gambia but since the border is currently closed, meaning the 420km (260-mile) journey is now twice as long as travelers and Lorries are driving all the way round The Gambia, via Tambacounda. The Senegalese government has not been vocal about the issue, no doubt for fear of exacerbating relations with its neighbor, The Gambia.
President Macky Sall who is also the chair of the sub-regional bloc ECOWAS has since been silent on the crisis, maintaining 'quiet diplomacy' to ensure good neighborliness. It is widely believe that during this upcoming meeting, there will be a definite solution to this frequent border crisis between The Gambia and Senegal, which President Jammeh often uses a leverage when dealing with Dakar.